The Nevada Governor's Office of Economic Development released the state's post-pandemic economic plan, prepared by SRI International. RCG Economics was fortunate to participate in the study, along with Brookings Mountain West. As part of this release, RCG is making available both the full SRI report as well as the more detailed version of our economic forecast. Click here to see both reports.
RCG forecasted economic conditions in Nevada through the end of 2021. In its full Economic Forecast, RCG projected a wide range of indicators for the state, the Las Vegas MSA and the Reno-Sparks MSA. They include:
Aggregate GDP
GDP of selected sectors
Taxable sales
Nonfarm jobs
Unemployment rate
Visitor volume
A variety of tax revenue sources
Other indicators
RCG found that:
It will likely take, at a minimum, until the end of 2022 for Nevada's economy to return to its pre-pandemic long-term growth trend
The pandemic will inalterably change the structure of the state's economy
Nevada, and especially Southern Nevada, should embrace these changes
To reduce the chances of another economic disaster:
Nevada must move aggressively toward a state economy that Is much more resilient than it is today, as the title of the attached SRI study suggests
Nevada's economy has to be more developed, not merely more diversified
"Developed" speaks to the quality of future economic growth in the state as reflected in the quality of the economic activity that is attracted and the jobs that are created in the state. We also believe that, while the lodging and hospitality industry will remain a leading economic sector for the foreseeable future, it will not lead Nevada to a more resilient and sustainable future. This is a hard truth, as clearly reflected by the economic "pandemic" caused by the COVID-19 pandemic.
As the recent December jobs data show, the Reno-Sparks MSA has already achieved an unemployment rate of 5%. Meanwhile, the Las Vegas MSA languishes above 10%. Furthermore, these rates are considered minimums because they do not include part-time workers, discouraged workers and other workers that have left the labor force.
To avoid the severity of future recessions, a paradigm change in how Nevada sees itself is needed. As the chart below shows, if the economic lessons of the COVID pandemic are ignored or forgotten, another severe downturn is certainly in Nevada's future. According to our research, we expect:
Nevada's GDP to remain 5% lower than it would have otherwise been had the pandemic not occurred by the end of 2021
Based on our worst-case and best-case bands, 2021 could end as low as 13 percent lower and 1 percent lower than with no pandemic (essentially recovered), though these outcomes are less likely
Nevada Real GDP Forecasts (2020 Dollars), by Scenario: 2014 – 2021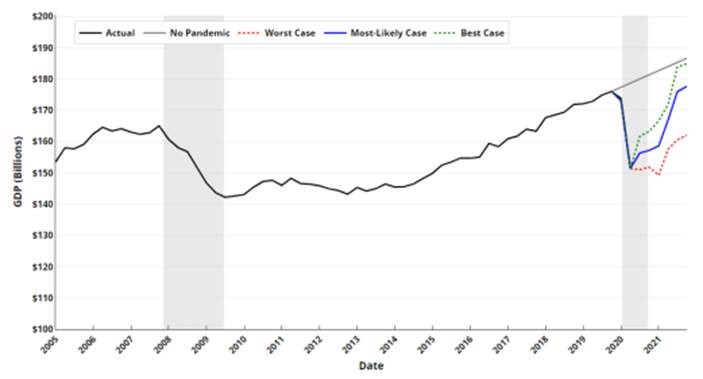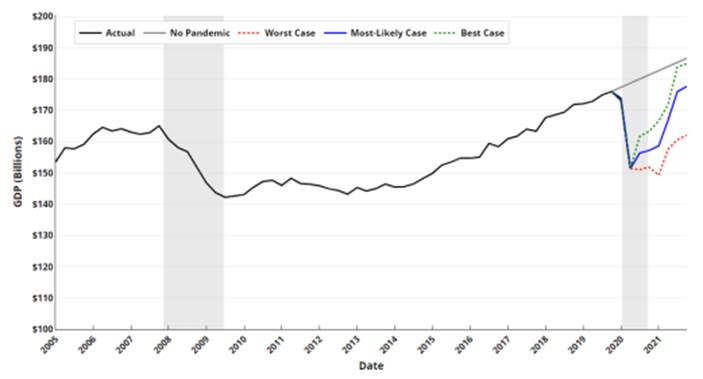 Note: Gray bars denote recessions.
Sources: RCG Economics, Bureau of Economic Analysis