Welcome to our monthly REITView newsletter – where we analyze the latest national trends in real estate investment trusts (REITs) and their implications for investors and the Nevada real estate market. REITs own, and often operate, a pool of income-producing real estate assets. Investors can then purchase a liquid stake in these portfolios – think of them as mutual funds for real estate.
While REITs are not the biggest players in Nevada's commercial real estate landscape, secondary markets like Las Vegas with above-average population and job growth are likely to attract REITs looking for value and growth opportunities.
The sectors listed below, which were selected based on relevancy to Nevada, represent more than 75% of the 171 FTSE REITs currently being traded. It is useful to look at shorter-term and longer-term returns to determine trends.

January was a solid month for Real Estate Investment Trusts (REITs), surging in January. Monthly returns were in double digits for almost every sector we track. Industrial REITs were the leader at 15.3 percent growth in January, followed closely by the Office sector at 14.5 percent growth. Even Data Centers, after months of negative growth, have seen a resurgence, turning in 7.4 percent returns.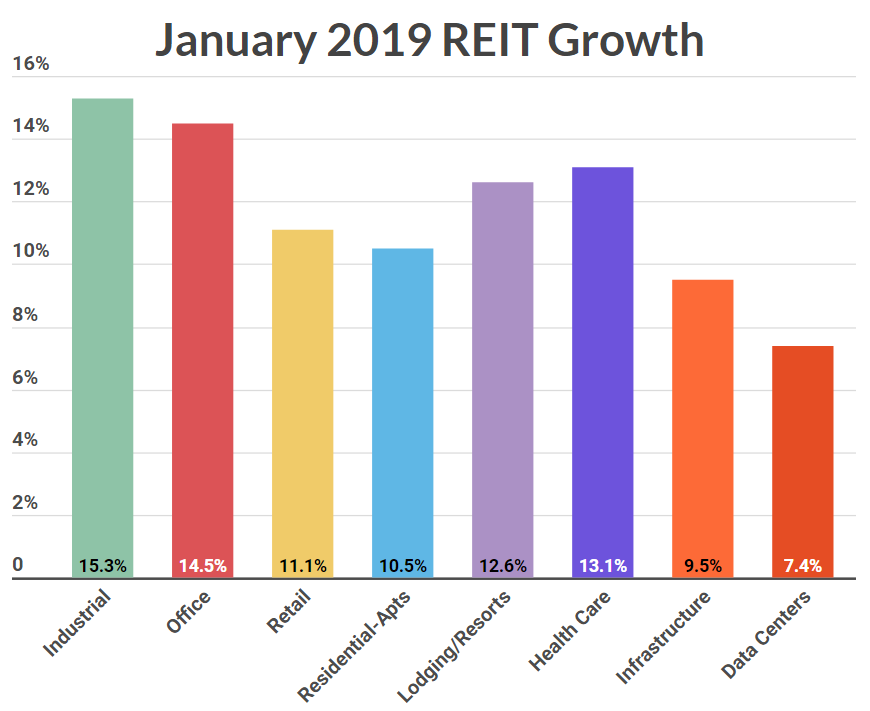 Looking longer-term, we see that Health Care and Residential (Apartments) REITs continue to see the strongest 1-year growth at 29.5 percent and 19.8 percent respectively. The only sectors that saw negative returns over a one year period were Lodging/Resort (-4.9 percent) and Data Centers (an unfortunate -6.66 percent).

Over a three year period, Industrial (23.5 percent) and Infrastructure (21.0 percent) saw the strongest growth, while Retail saw the weakest at just 0.4 percent.

The same pattern was true for the five-year period, with Infrastructure (16.7 percent) and Industrial (16.2 percent) leading growth, and Retail trailing all sectors tracked at 5.6 percent.

Retail REITS have been in the news lately as the bankruptcy of Sears Holdings loomed over them. Though the company avoided liquidation, and is attempting to adapt to the modern economy, it remains to be seen how long box stores will last as an American institution. Retail REITs had strong one-year growth, 12.7 percent, and relatively tepid five-year growth at 5.6 percent.